ESA JHelioviewer a Window on the Mechanics of the Sun Introduction
I wouldn't call myself an Astronomer or anything close but I do have an avid interest in application tools that change or can change my perspective on what we are, where we came from and perhaps where we might go. I have found many, well some at any rate, simulator applications don't really belong in games for games they are not. This and these are all very serious tools that help the more intelligent amongst us understand, hopefully our small part in the Universe. The "ESA JHelioviewer" is a Java program therefore you will need java to run it, it also means you can run in any platform that supports java, this includes Linux and of course Windows.
The "JHelioviewer" is an application that can look at many aspects levels, if you will of the Sun's make up, our Sun. Through this one application you can look at specific dates and times that might for instance precipitate changes to the Earth's Atmosphere or perhaps Continental Tectonic Plates. Linux is a fantastic and free platform with which to view and immerse yourself in a vast array of tools that many professional themselves use.
What is JHelioviewer
JHelioviewer website – http://jhelioviewer.org
JHelioviewer is visualization software for solar image data based on the JPEG 2000 compression standard. JPEG 2000 offers many useful new features and has the potential to revolutionize the way high-resolution image data are disseminated and analyzed. The JPEG 2000 Interactive Protocol (JPIP) enables serving data in a highly compressed, quality-progressive, region-of-interest-based stream. These features minimize the data volume transmitted while maximizing its usability. This is especially relevant for solar physics since NASA's Solar Dynamics Observatory has started providing more than a terabyte of image data per day.
You will be able to explore 15 years or more of data from SOHO data archives and the HI res image database of SDO additionally.
Java Installation
In order to run this program you will need Java installed here is how you can install this with the minimum of fuss:
># sudo apt-get update
># sudo apt-get install openjdk-7-jdk
JHelioviewer Application Installation
Download the tool from the main website
It should be noted with software such as this that you may encounter bugs with this software I myself have noted problems shutting down the application when finished. Just in case you encounter such a problem we strongly suggest you have a terminal window remain open, so you can use the xkill command on the command line to disable the application after use. Unfortunately the Ubuntu Dash search cannot find xkill.
Using JHelioviewer
One of your first tasks will be to locate where you have downloaded the file "JHelioviewer.jar" once located you will need to change the permissions of that file so Java can run it, see screen image below.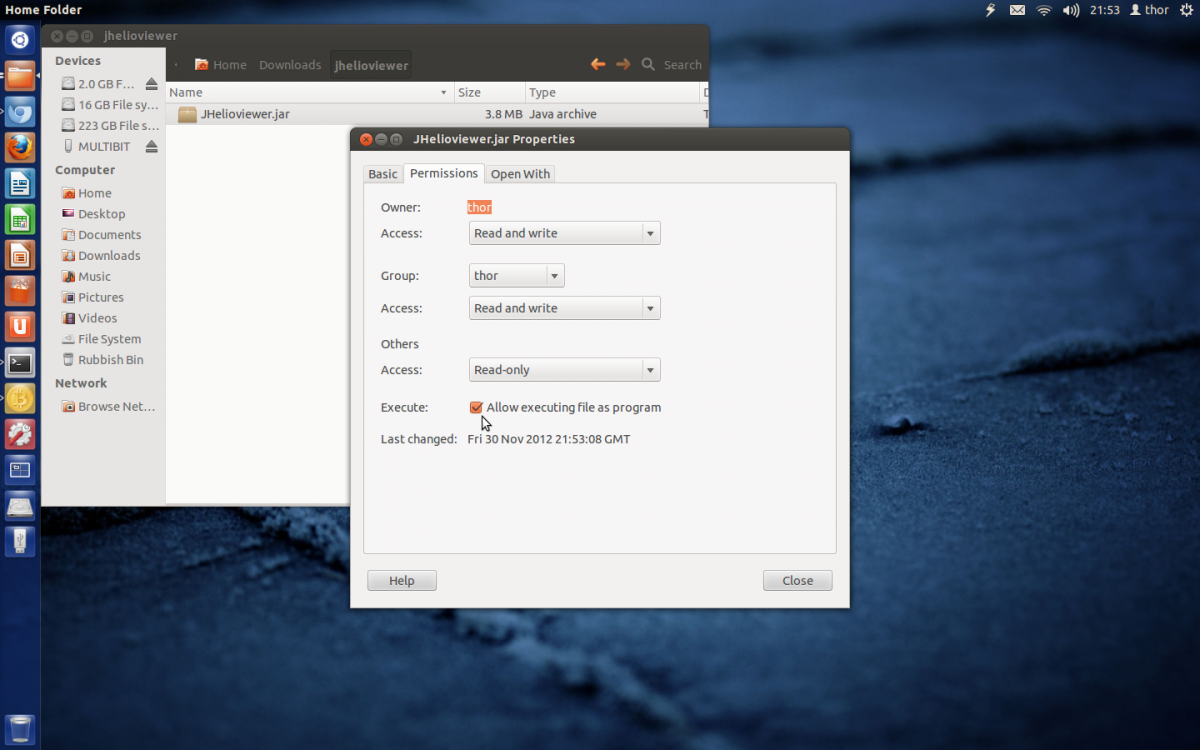 If you have just downloaded "JHelioviewer.jar" you need to access the file properties from within the "Nautilus File Manager" or similar, select permissions tab for the file and locate the Execute option ensure you "Allow execute file as program".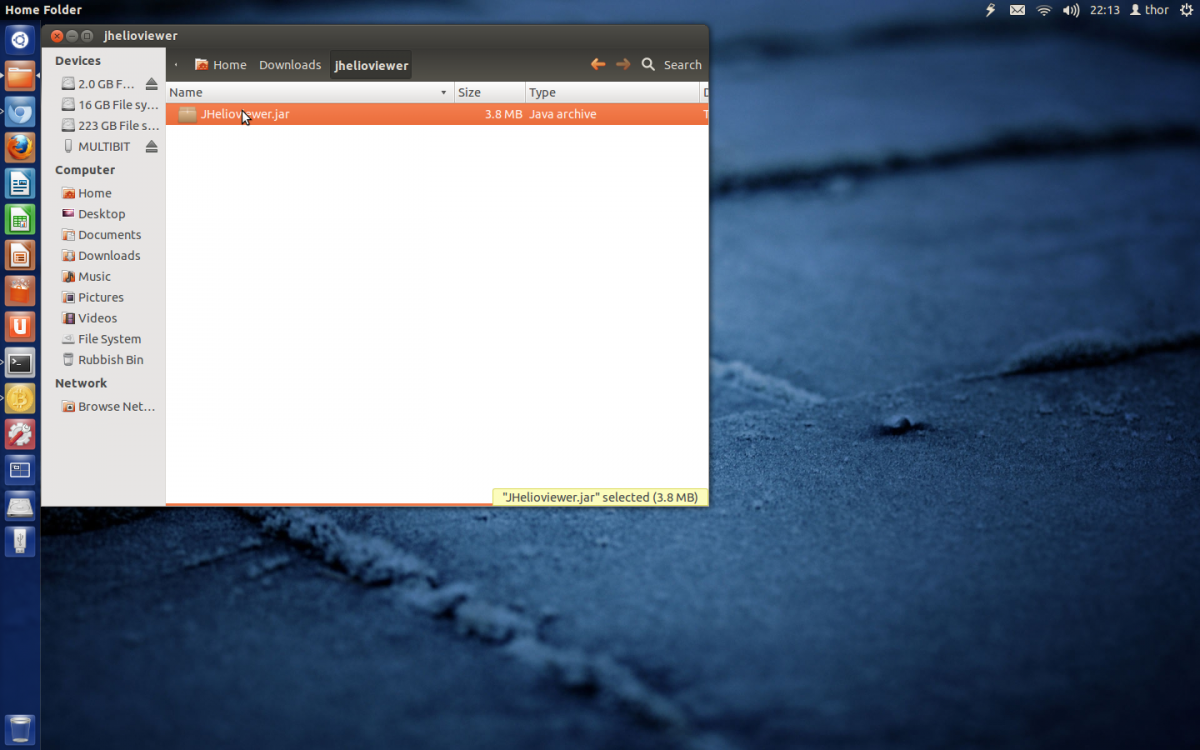 To run the program right click on the "JHelioviewer" and select Open with > OpenJDK Java 7 Runtime see screen below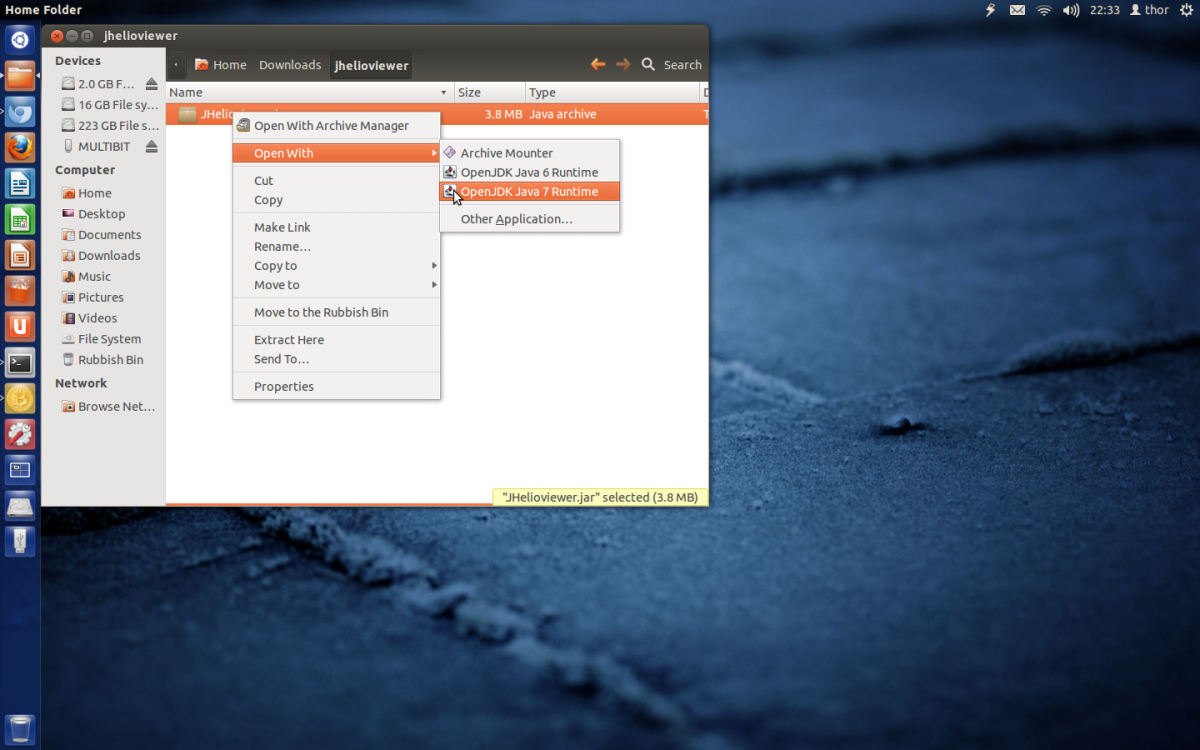 <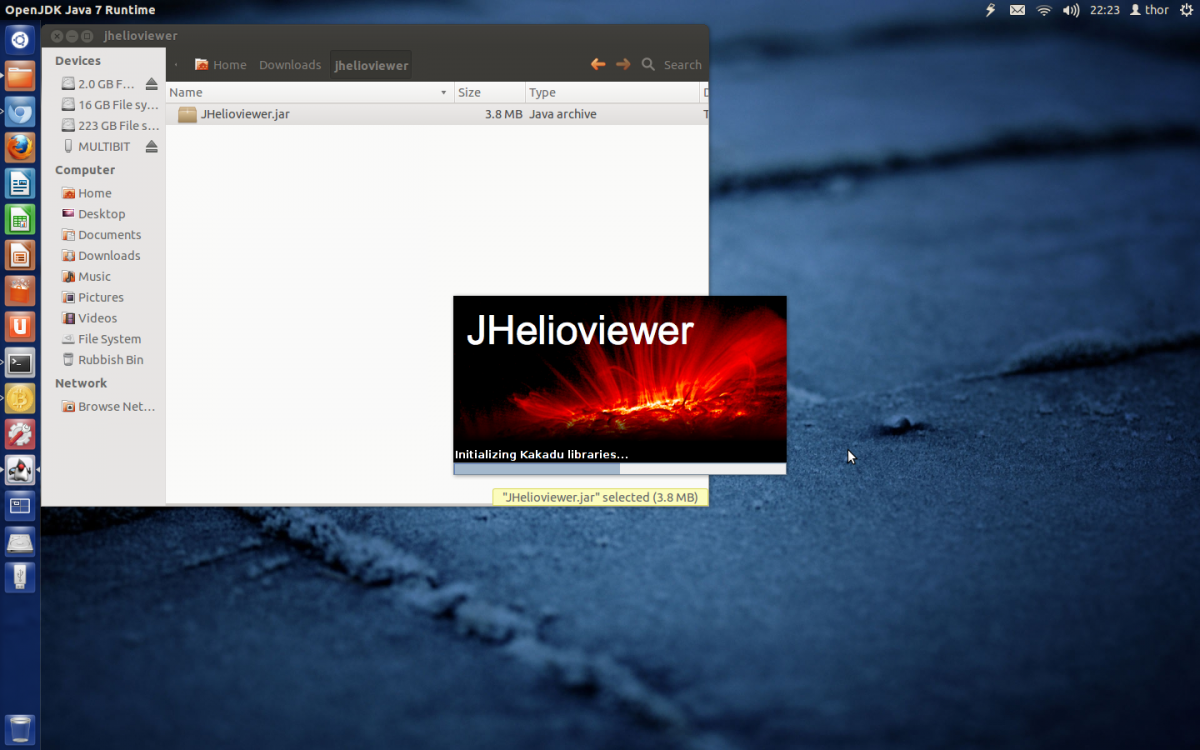 /p>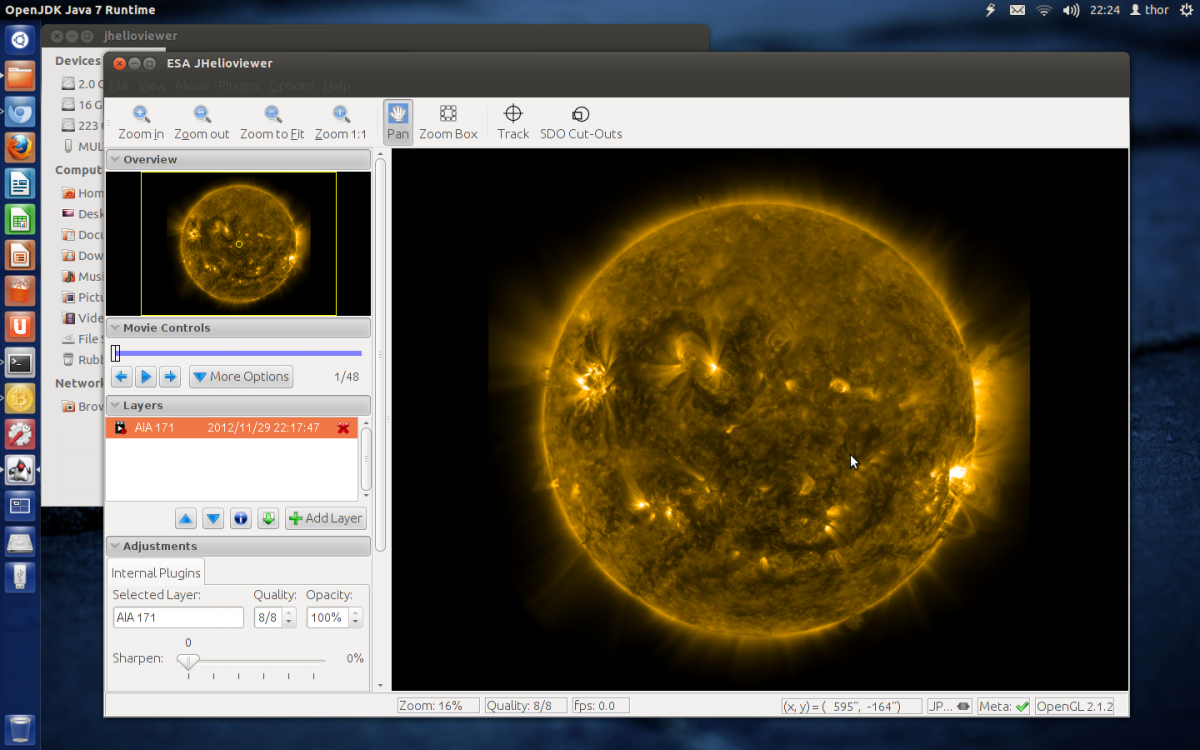 Now you have access the program we can show you some of the functions available, as you run the program you will be provided with a default capture you can then press play and view the Sun revolving.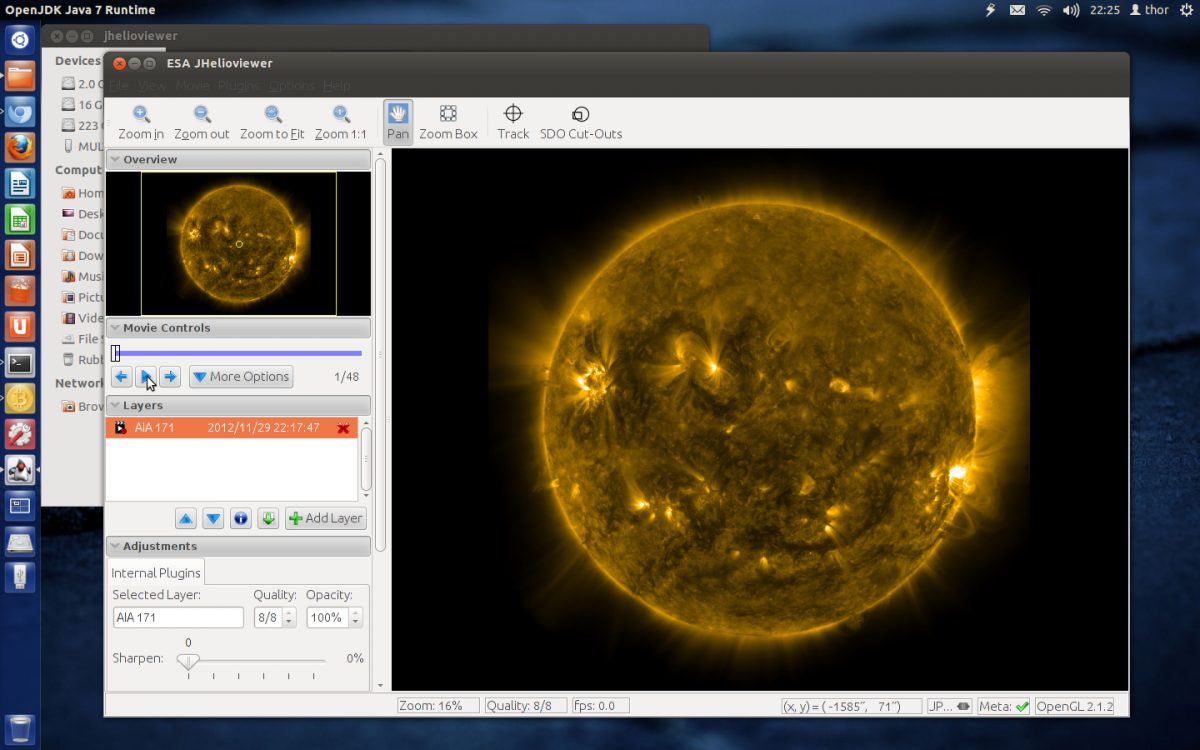 However hidden beneath it's controls it can do a great deal more than play just the current default group of images. You can also select a new layer defining the parameters you wish to view for both the SOHO craft C2 and C3 and SDO.
Lets stay with the movie controls for now, these are located to the upper left of the application and just below the viewport of the movie image snapshot. You can obviously step Forward or Back and Play the default selection of 1 to 48 images, however you can also expand on this option directly. Selecting More options will give additional controls similar to those as seen on the SOHO website such as the "Animation mode", "loop, Stop and Swing". Additionally you can change it's speed and it's gradients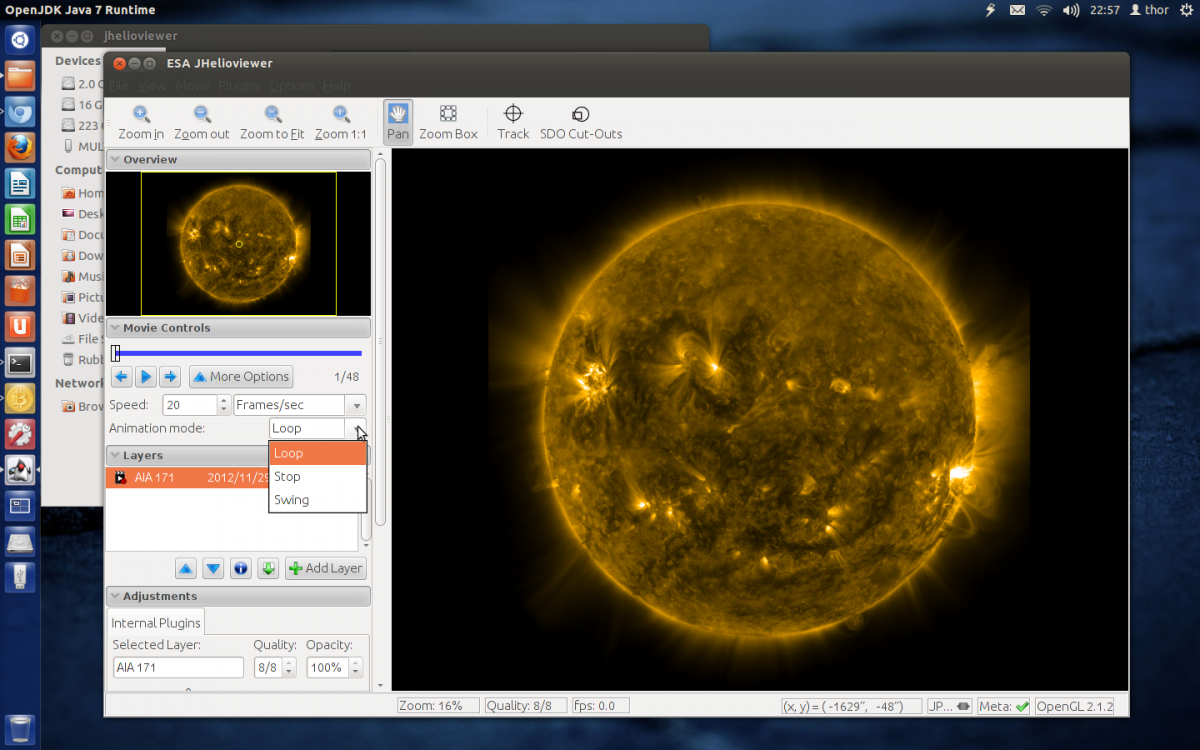 Ignoring Layers for the moment, you have a group of options below it entitled Adjustments these only act on the current layer as do the HEK bowit it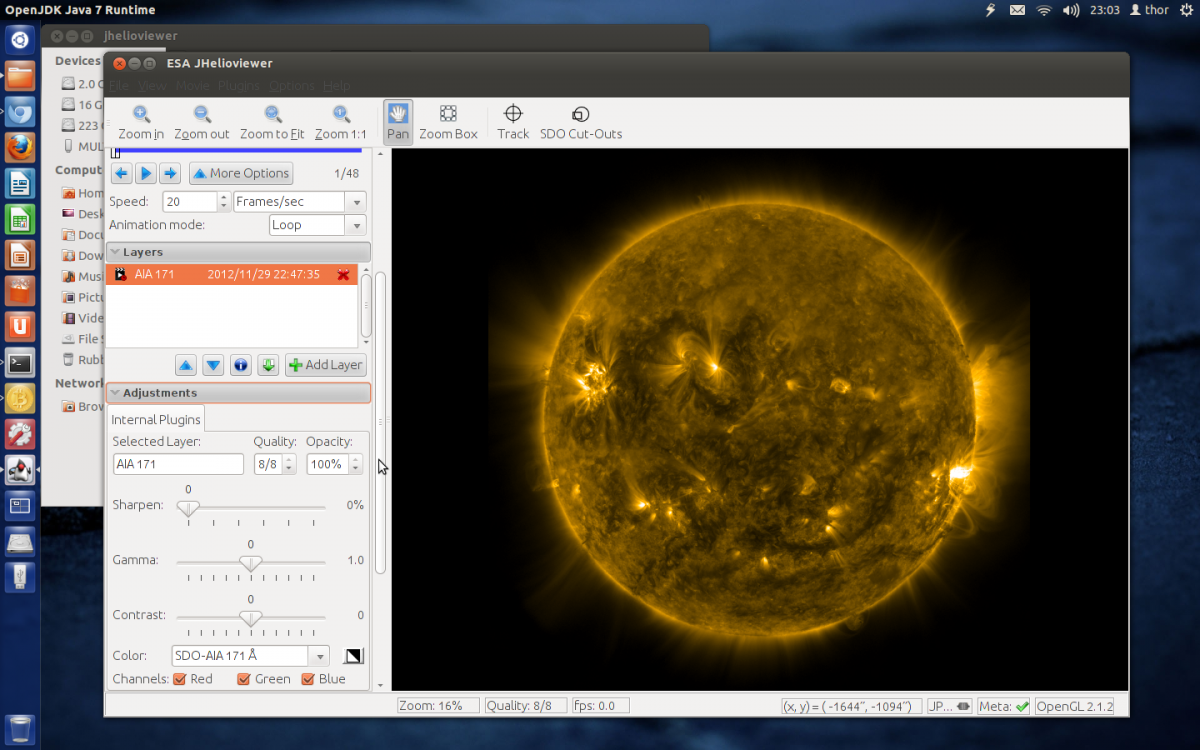 Going through all these options is beyond the scope of this article and perhaps spoil your enjoyment. The HEK option also act on the current layer and will when activated label points of your interest on the Sun images itself.
Layers – I will touch only briefly on this but essentially when you add a new layer you can define the craft, date and date range you wish to view. To access this option select the plus "+" icon and add your new layer as you can with Gimp each of the layer can be defined to your needs and deleted when no longer required. However we suggest you always have at least one layer in layer options before closing the program.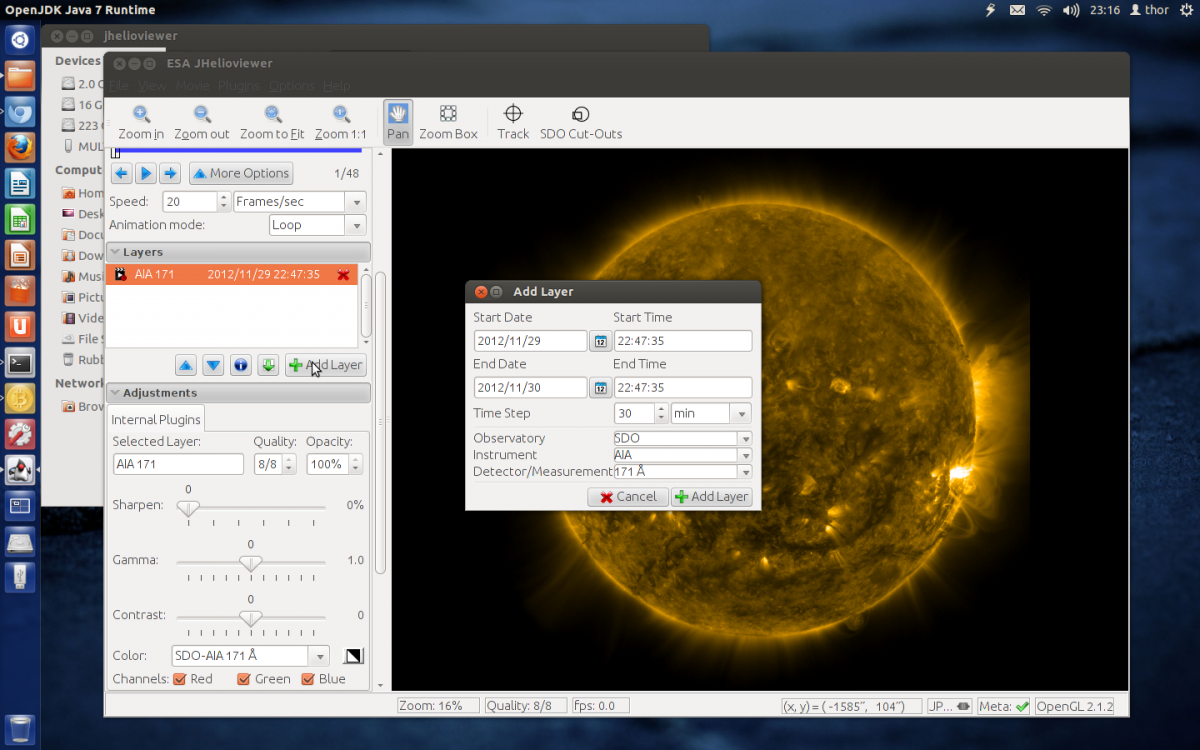 Last thing I would remind you of are the controls at the top of the application Zoom controls and so on which are worthy a mention, but trust you know how these controls can be used to best effectiveness.