SME Server – Email & Webmail Part 3
You have now completed the most of he important parts in terms of Internet connection of the server, and what we need do now is test the server configuration so the possible problems we may come across are not compounded because you have failed to configure your server correctly or forgot the cardinal sin of pluging in the ethernet port to your router.
Here is what we check for at this stage.
Does the sme server complete it's booting to the console and login screen
Is the stand alone server ethernet port connected to the internet – this is where you need to understand the difference between internet WAN network and internet LAN network, for your server to work it needs to be connected to the WAN network
Do you have both the root password and admin password to hand – Not much point continuing if you don't have these
Can you login to the console via "root" user
Can you login using "su admin" from the root console screen – Do you observe the admin console on the screen
Using the admin console screen when you test internet access is internet access returned as successful if not you have an internet connection problem – you need to solve this before proceeding further
Assuming your Internet access is successful exit admin console and return to "root" console
Type the following command to test internet access and upgrade your server
Any new installation is bound to require updates, completing this task ensures the communication level is sufficient to proceed to the next step.
After the completed installation, you can now log in on the shell with the username admin and the admin password. Afterwards, you will see the server console: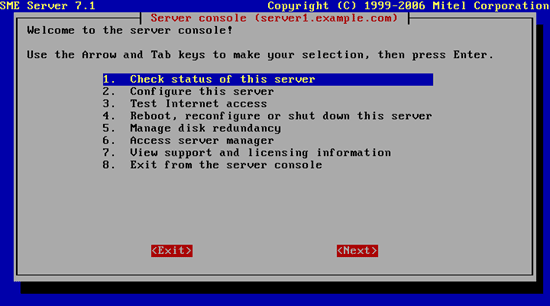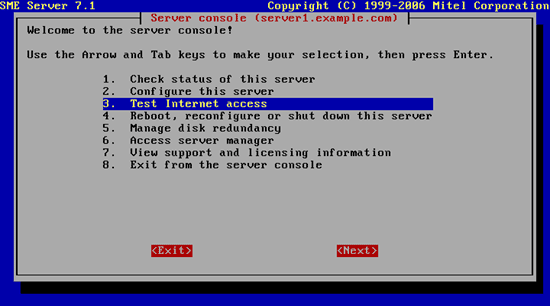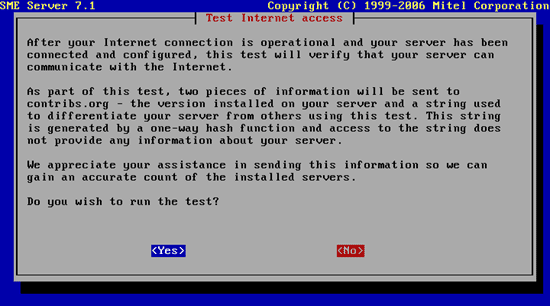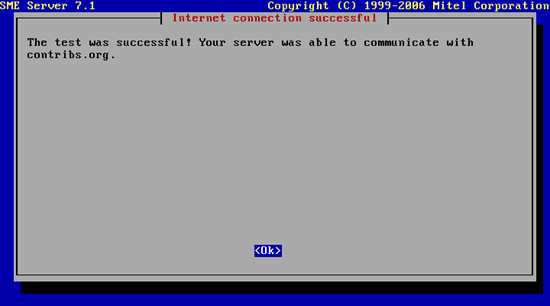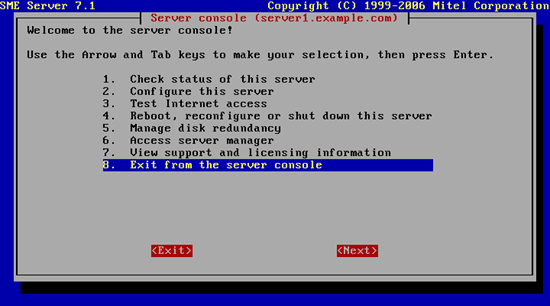 This console gives you another chance to change settings, view status reports, reconfigure your system and reboot the system, etc. As you can do almost everything from the SME Server web interface you need not use it, but it is extremely useful when remotely connecting via ssh (secure shell) . However, we can test now if the SME Server has internet access:
After the successful internet connection test you can select 8. Exit from the server console and then upgrade your server as mentioned above.
More information on Domain structure can be found here.