Installation of OpenSuSe Linux Operating System
Although the process described here is based on OpenSuse 10.0, (by 2014 the current version 13.2), the basic procedure hasn't changed much over the years, so while the screens depicted here haves changed, the various stages remain much the same. If anything, the process has got easier, and is almost completely automated.

This is also true of the other major Linux distros, which also go through most of the steps outlined here.
probably what has changed since this article was written, is the distribution of live distro's (DVD's) with many of the popular Linux magazines. These enable you to boot up the Linux distro of your choice, and try it out, much same way you might test drive a new car. Of course what you can't do is save any information, because the live distro does not actually write anything to disk.
Initially it can be a bit difficult to move from operating system to another. Linux will allow you to dual boot meaning you can run Linux along side your existing operating system; providing there is space on the harddrive to do so. So when you start your computer, you can decide which operating system to log into.
If your other operating system happens to be Microsoft, as well as backing up your data, you should also perform a defrag, to free up as much space as possible.
Finally, one last tip before you start. If you have printers, scanners etc. connected to your computer, its a good idea to make sure they are switched on during installation. I said things had got easier since this article was originally written. In the past the configuration of hardware, probably contributed to the reputation that Linux was for Geeks. Well things have got a whole lot easier, with major advances in the automatic configurattion of hardware peripherals.
Warning: This procedure will erase any information on the drive where Linux is installed. Before attempting a clean install, or even an upgrade of an existing system you should always perform a backup of your existing data.
This procedure outlines a default installation of SuSe Linux, along with Open Office. The whole process can take somewhere between an hour to hour and half, depending on the vintage of your machine. Insert the first SuSe Linux installation CD into the CD drive and restart (or start) the computer. The first screen to appear is the SuSE Linux welcome screen. This will shortly be replaced with the installation options.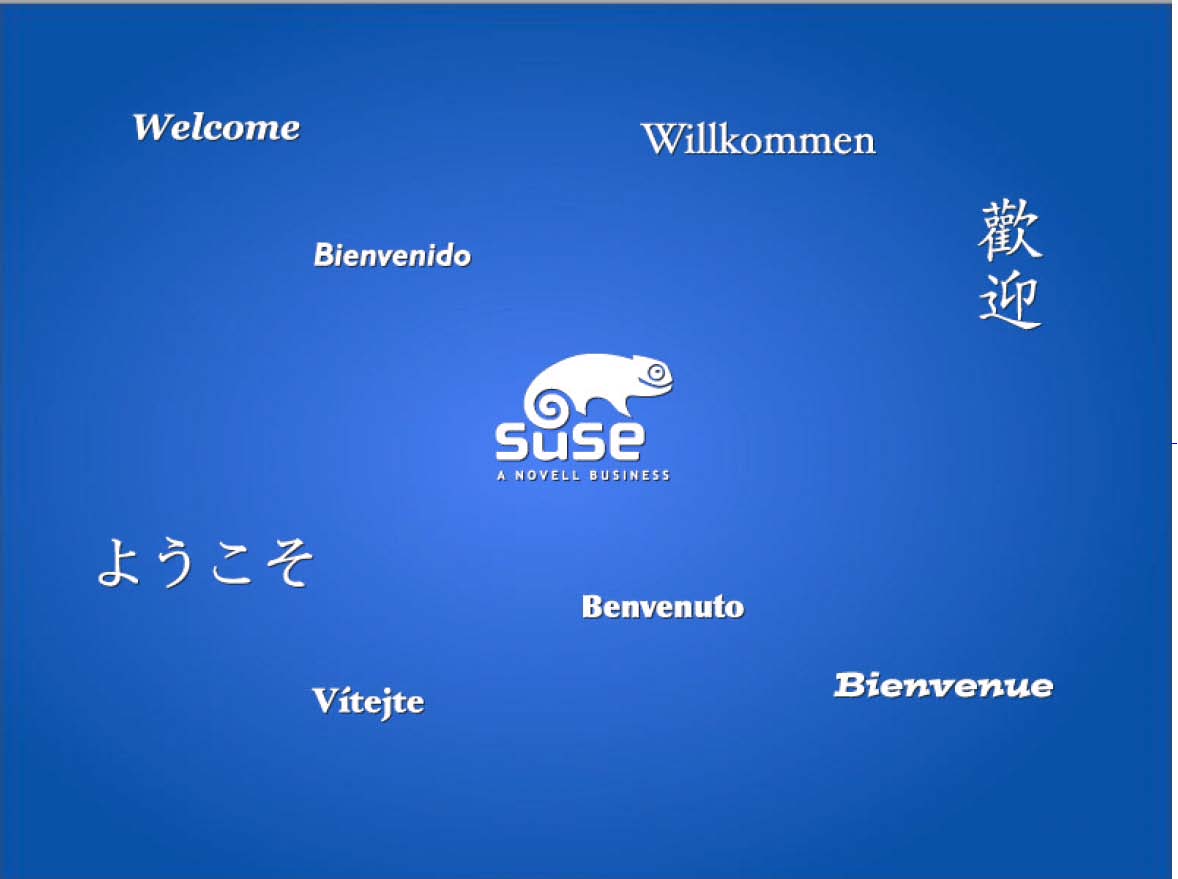 Change the default setting from Boot from hard disk to installation and press return.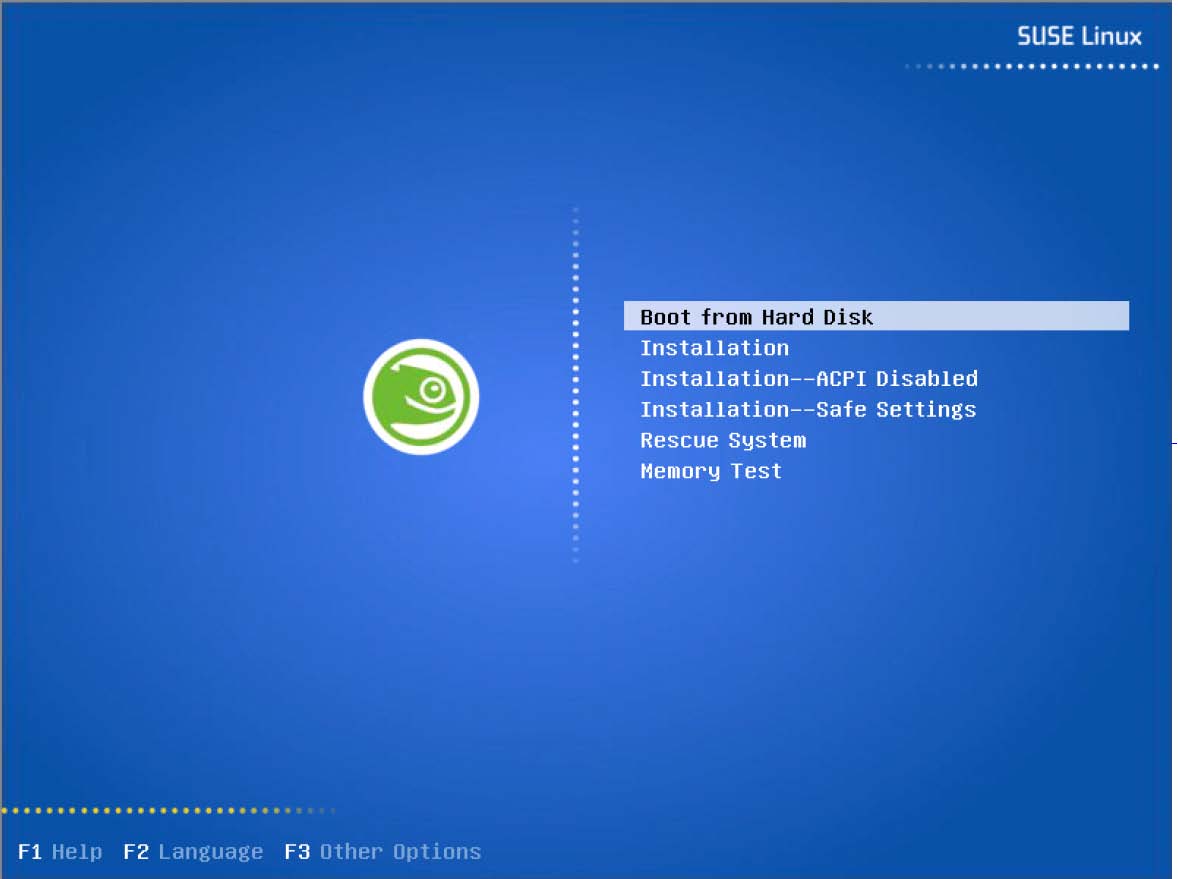 SuSe Linux will now load the kernel. You will see the icons on the screen below slowly fill in as the installation of the kernel proceeds. The next screen to appear allows you to select the English.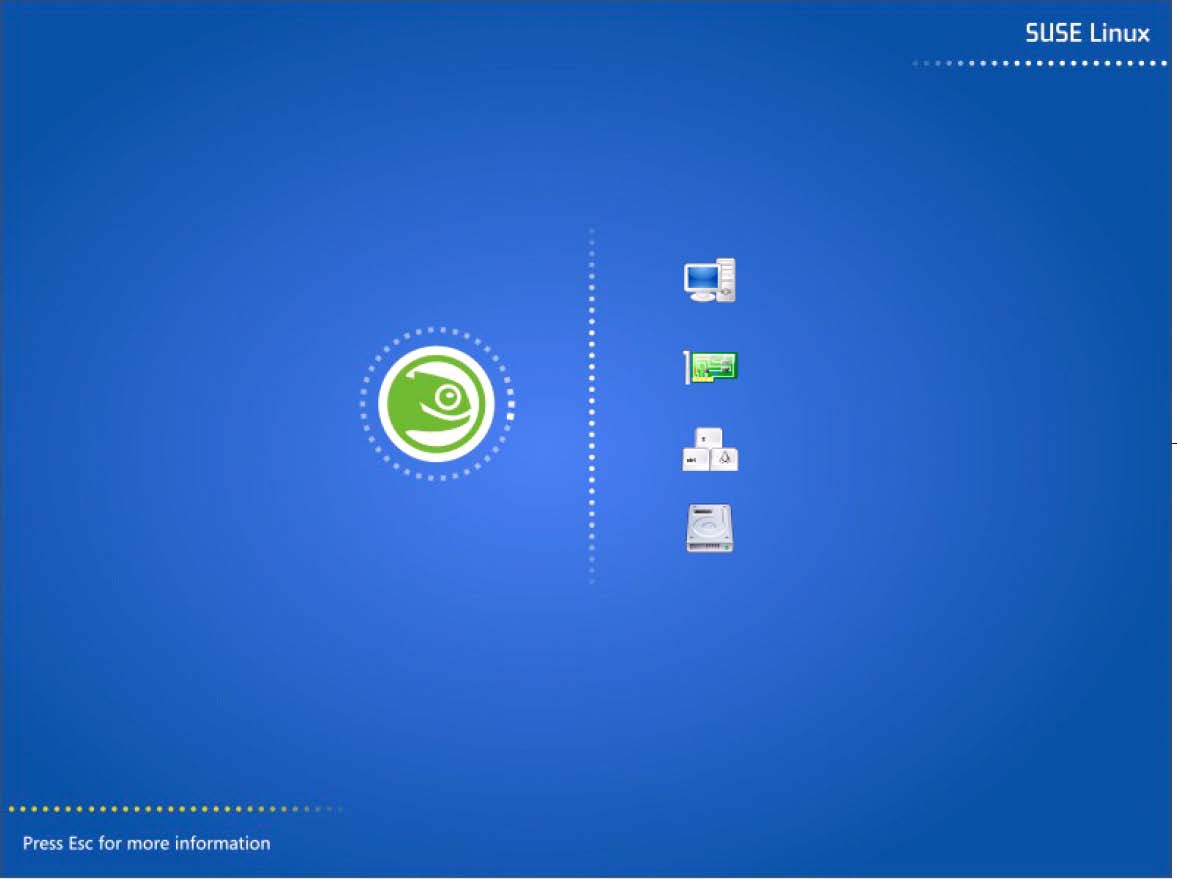 Select the language required (e.g. English) and press next.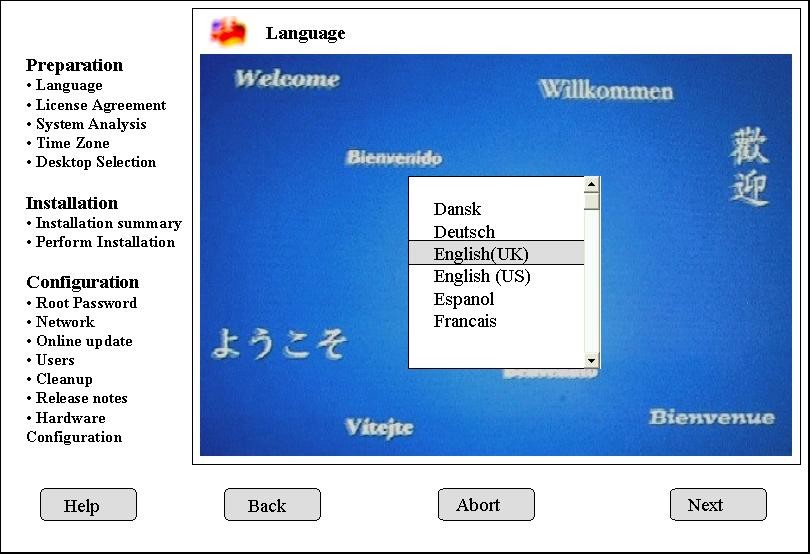 You must now read and agree the SuSe Linux License agreement. Select the option Yes, I agree to the license Agreement and press next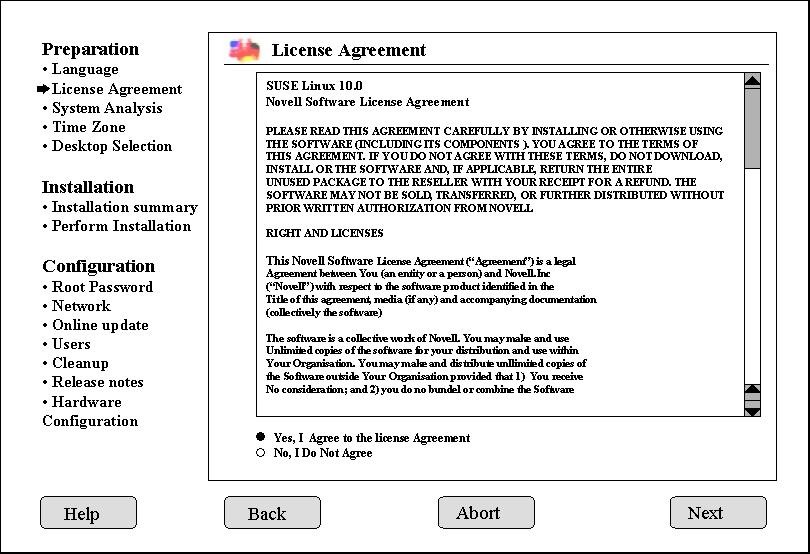 The next screen sets the time zone and date and time. Select the region (e.g.Europe) as the region and for the time zone the country (e.g. United Kingdom ). If necessary set the current date and time. Click next.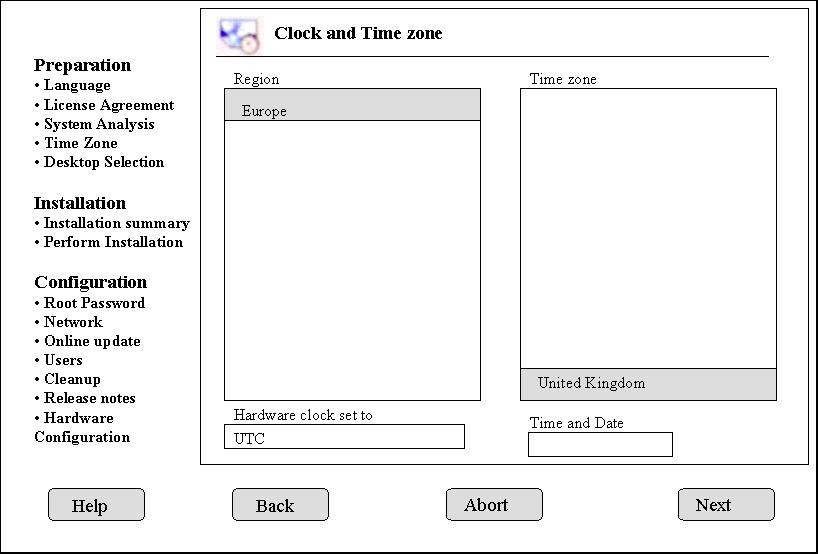 The next option allows you to select the desired desktop option. For now select Gnome. On a stand alone computer this is largely a matter of personal taste. However if you are setting up a network then you should standardise on one particular desktop environment. Click next when ready.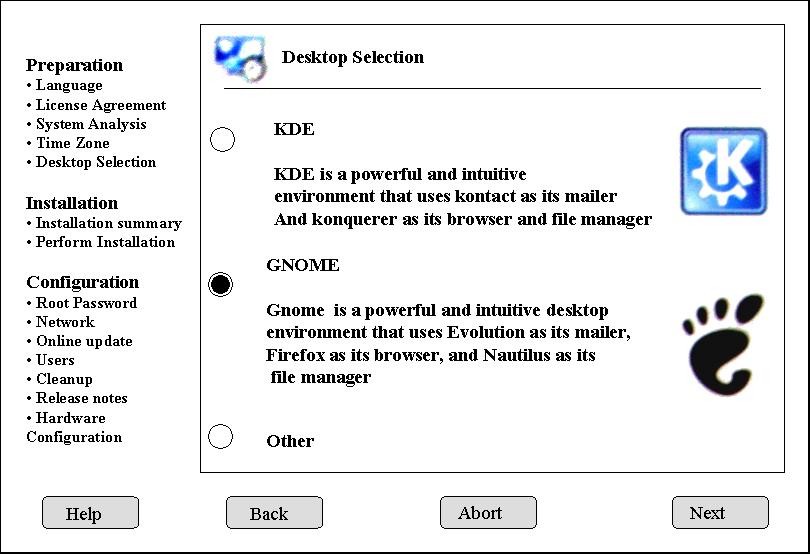 The next screen will interrogate your computer to determine appropriate partitions. By default SuSe linux will select Reiserfs as the file system. If necessary Linux will attempt to resize any existing partitions to try and make space for the new installation.
Warning: If you installing Linux along side another (i.e. Microsoft) operating system then you must be extremely careful if you want to preserve any existiing data. Perhaps the safest arrangement is to install Linux on a separate hard drive. In any event it is strongly recommended you make backups of any data you want to protect.
strong>Warning: Doing this will erase all existing files so make sure you have backed up any files you need to keep.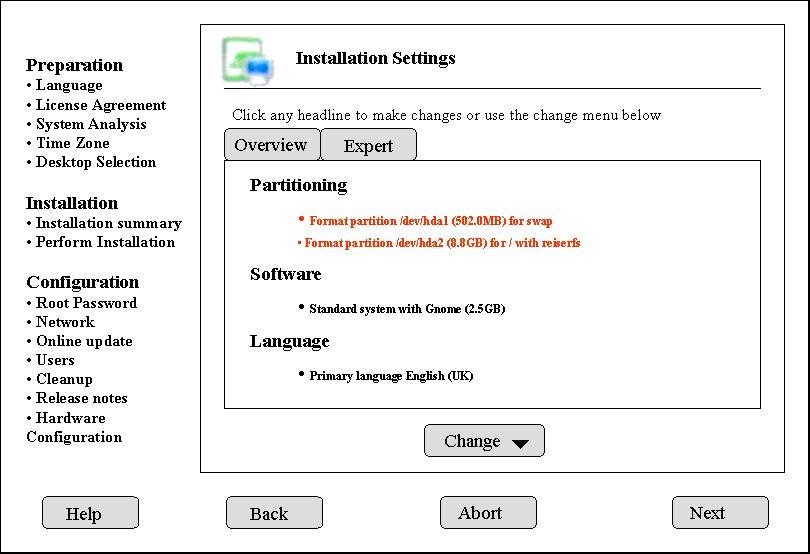 Up to this point you can undo any choices you have made, or even abort the installation. After this point, and once you have agreed to proceed with the installtion you will not be able to undo the installation.
You will now be presented with a series of screens will the selected packages are being loaded. Periodically you will be asked to insert the next CD. A progress bar indicates how far the installtion has got. and at the bottom left hand side of the screen is the estimated time to the next CD. The next important screen you will encounter is the setting up of the root user and password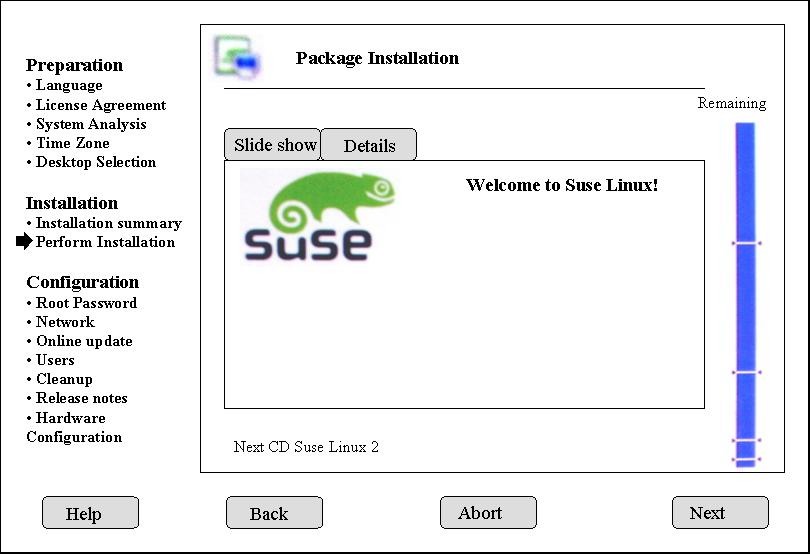 Enter the password for the root user and cofirm it by entering it again in the second box provided. As a general rule your password should be a minimum of 8 characters and be a mixture of upper / lower case characters and numbers.
The root user has full administrator rights to the machine so keep this password secure.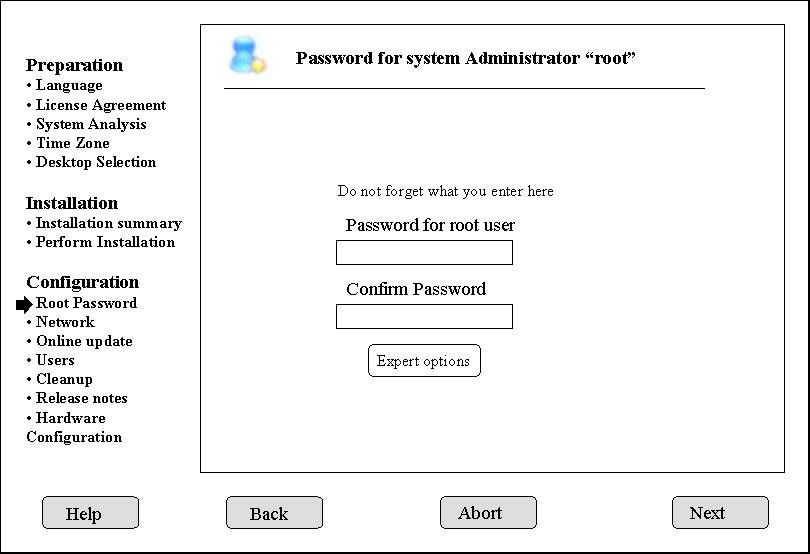 The next screen option is to set up a network. Linux will probe your computer looking for any network interfaces. Select skip configuration is you are installing Linux on a stand along machine.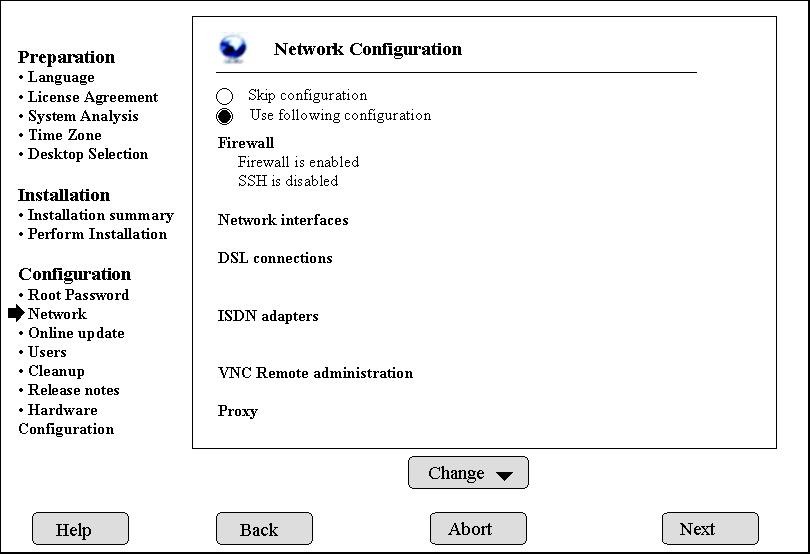 The next option sets up the user authentication. For now select Local (/etc/passwd).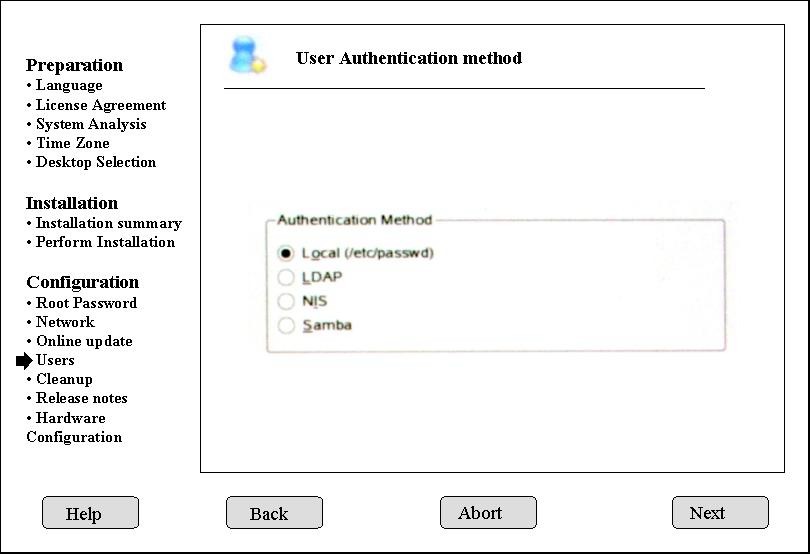 This screen allows you to set up individual user accounts. Set up at least 1 user account for day to day use.
Do not use the root account for routine tasks, this is not good practice and is potentially dangerous.
Turn off automatic logon if you do not want others to be able to log onto your machine, or if your are setting up multiple users,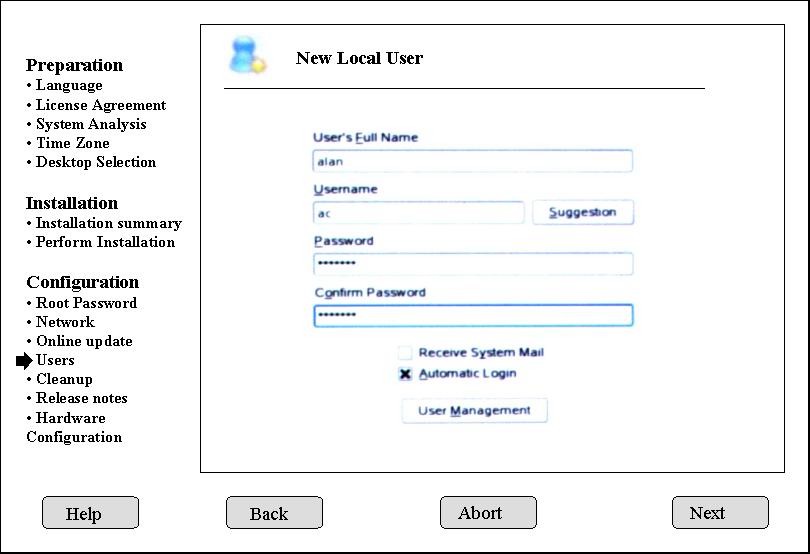 OK neraly finished. The next screen will provide information on the current release notes. Select next when ready.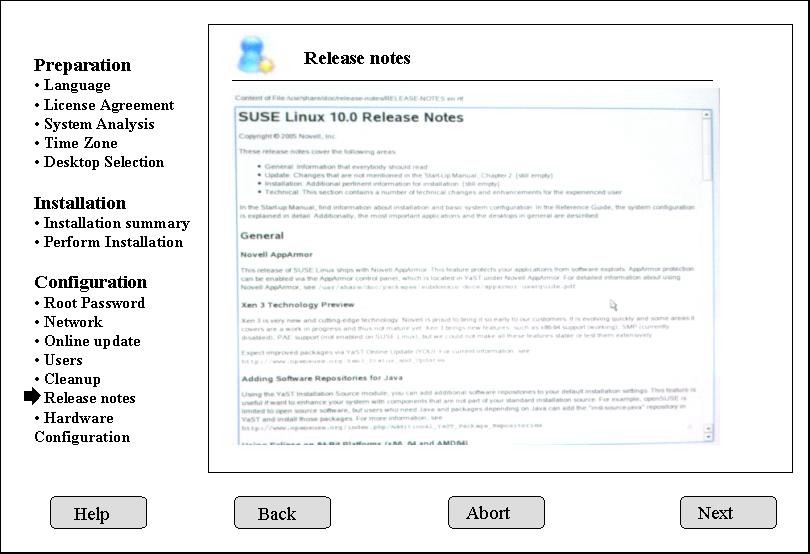 The last screen you will encounter is the hardware configuration.
Warning:You must take particular care with the setting of graphics card. By default SuSe Linux will attempt to use the highest possible resolution. Use a lower resolution if in any doubt as to whether your monitor can handle the maxumum value. Most monitors today should be able to cope with 1024 x 800. Linux will also try to determine which graphics card you are using. Again if in doubt use one of the VESA standard settings.
If you are installing Lnux on a number of machines, with different monitors, or graphics cards, you may prefer to use the VESA settings, so if a monitor needs to be changed, you should be able to simply substute an alternate monitor.
Failure to heed the above warning may result in the monitor returning an error message, along with a blank screen. This can be tricky to recover from, and at worst may mean running through the full installation again.
Congratulations you have now completed the installation. Click finish to start using Linux.